I was browsing the r/electricvehicles subreddit and saw a post on why you picked the EV you ultimately bought. My 2023 BMW i4 eDrive 40 should be delivered the first or second week in April, so I wrote about my test drive experience relative to other EVs I took out for a spin. You read the pros and cons of the drives below.
In advance of delivery, I had a Chargepoint Home Flex Level 2 EVSE installed. With the 60A charger, I should be able to charge at the 11kWh max rate and gain 37 miles of range per hour. With Ameren Missouri variable rate pricing, "filling up" overnight to 80% SoC should only cost about $3, give or take.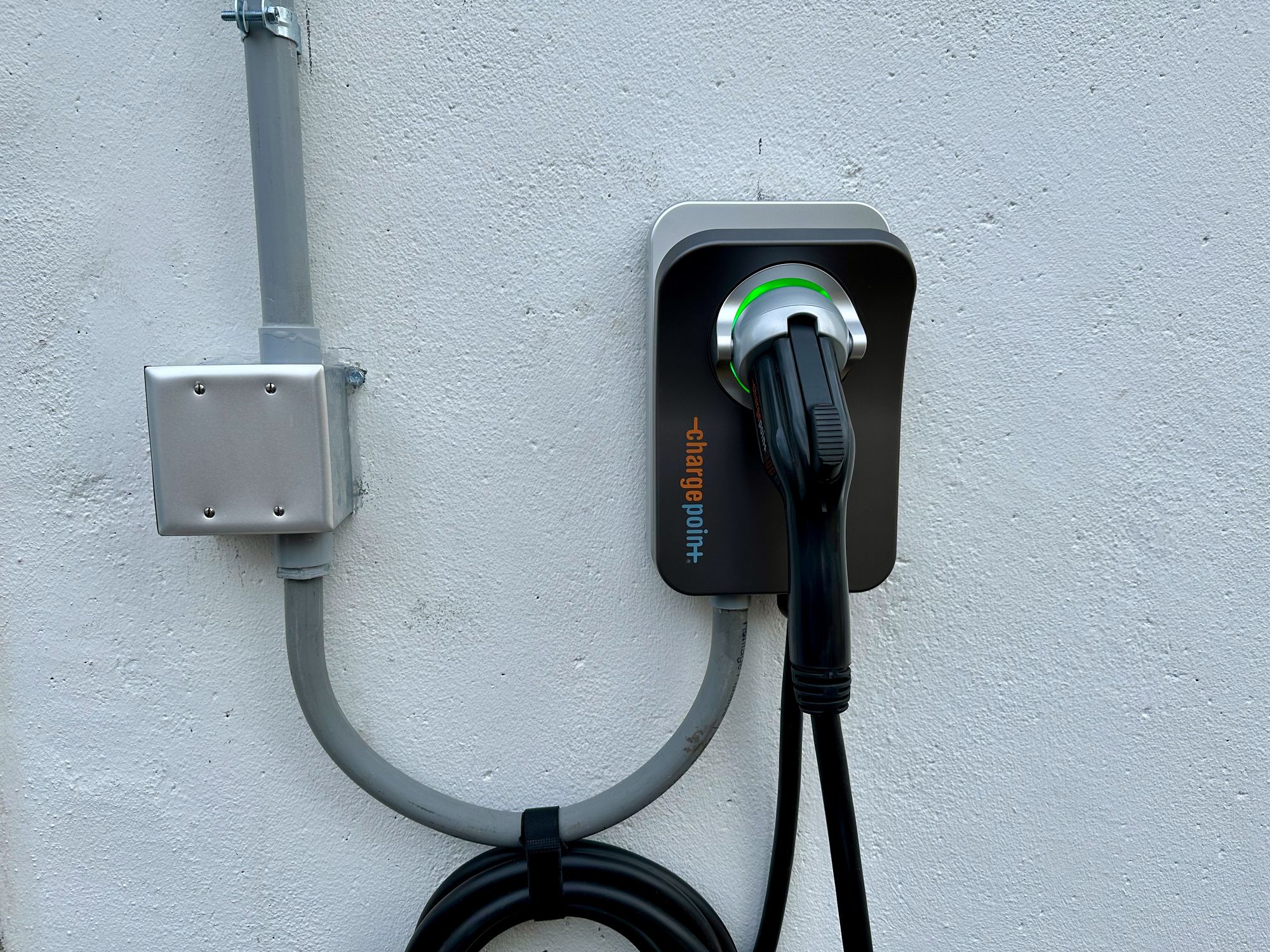 Pros of the BMW i4 eDrive 40
Ride quality. Super smooth ride; the car glides - hard to really put into words, but I felt like starts and stops were on a smooth ramp up/ramp down curve. The car handles great on the shitty midwest city pothole roads.
Silent cabin. Seriously eerie how quiet it was driving around at highway speeds. One of the first things I plan on doing when I take delivery is turning off the Hans Zimmer driving soundscape so I can let the Harmon Kardon system breathe.
Aesthetic. I realize that the "beaver teeth" grill is something that people make fun of a lot, but I don't think it's that bad at all. My car is Jet Black with Black SensaTec interior and Shadowline trim, so it hides the grill pretty well. The other nice thing about the i4? It looks like a normal ICE car.
Range. I opted for the 18" Gunmetal Aero wheels, so I'll have a base of ~ 300 miles when fully charged (which, obviously, I won't do unless heading out for a longer road trip in the grand tour i4).
Charging. I can charge at home cheaply for 90% of my driving, and charge at work for free. I get 2 years of Electrify America charging, which is hopefully enough time for them to get their shit together. 205kW charging is more than a lot of the current crop of 400V architecture EVs.
Dealership. I know dealerships are the arch-nemesis of EV buying, but my BMW dealership and salespeople are top-notch. The service department has trained EV folks on staff and the dealership itself is really low-pressure while doing high-quality vehicle service and customer service work. I think this is rare, and very different from the Hyundai dealership I was at for the Ioniq 5 test drive, who jumped into high-pressure sales bullshit on the test drive and couldn't answer any of my questions. If this is sales, I don't want to know how aggressive the Finance Department could get. I also had a bad experience at the Kia dealership. Car buying sucks.
Not a Tesla. Look, I get that the internet runs hard with Pro-Tesla / Anti-Tesla sentiment. I don't care what you drive, we all have freedom of choice. If a Tesla works for you, that's great! I'm happy that it's not an ICE on the road. Your driving a Tesla has absolutely no bearing on my life whatsoever. But personally, I don't want that brand association. I did at one point - and I even  drove a M3 and MY to see if I was being blinded by my biases. But truth be told, the BMW drove better than both the M3 and MY. It made the choice easier for me.
Cons of the BMW i4 eDrive 40
Electrify America. It's free, but free has a cost. And the cost here is a frustrating experience when road-tripping. There's that extra step of planning that you have to take into consideration when venturing out to ensure chargers are up to snuff -- it's not the same as an ICE road trip where literally any non-diesel pump can top you off and you're on your way in around five minutes.
Price. I put in my deposit (which was converted to an order) a few days before the Tesla price cuts. Would that have changed the calculus on what I ultimately ordered? Given Elon's antics of late, I doubt it. But the fact is, there's a wider delta in price-to-range now than there was before. C'est la vie.
Summer Tires. Ugh, I have to find a set of all-seasons or winter tires to change out for 5 months of the year.
Inflation Reduction Act Tax Credit. I won't get a full or partial tax break for buying the BMW i4. That's a bummer, man. At least I have the tax credit for installing the ChargePoint Home Flex and upgrading my electic panel this year, though.
Financing / Timing. Not really a con of the BMW i4, but it's just a really bad time to buy a new car. BMW Financial Services keeps throwing around a 5.59% interest rate for a 60 month term if I wanted "traditional" financing, and the same 5.59% interest rate for 60 months + a balloon payment with lower monthly payments if I'd like to head down that route. Most banks and credit unions are all hovering around that rate. I may need to get creative with my down payment to reduce the amount I'm financing.
Timelapse production of a BMW i4