The thing about parents getting older is that you end up learning a lot about the human body – way more than you'll ever pick up in a high school or college biology course. You learn how to decipher acronyms like SDH (which is subdural hematoma) in the neurosurgeon's MyChart notes. You learn about various pharmaceuticals and their fun Hospice nicknames (Lorazepam was "Pam"). But you also learn that the heroes you look up to may have a weakness.
For my dad, who sadly passed away on Sunday, January 8, it was dementia. It was angina. It was diabetes. It was that pesky subdural hematoma. Getting old is hell.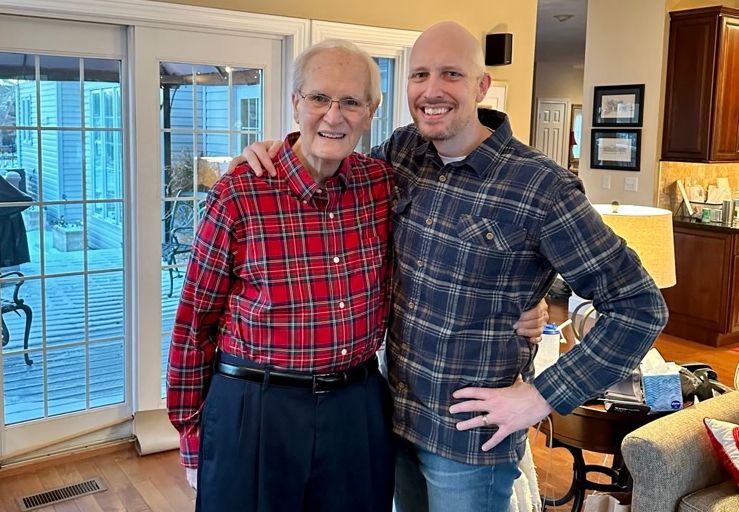 I've written about my dad before. We had a tremendous and uncomplicated relationship and I truly felt loved and respected growing up. He instilled in me my love of music, nurtured and encouraged my growth as a musician and designer, and pushed me to be a better version of myself. I'm hoping that I can pass along those same values to my children.
The past few days have been tremendously difficult as my family moves forward planning the visitation and funeral. The business side of death is, to put it bluntly, full of byzantine rules and is more complicated and more frustrating than it should be.
However, the important part is that we have it all taken care of, and that tomorrow's visitation and Thursday morning's funeral should go off without a hitch.
And, the grandkids get to ride in a stretch limousine with my mom on the way to honor my dad's amazing life.
Here's a partial copy of his obituary (full version here) that we attempted to write, edit, change, delete, and write again numerous times before finally publishing:
Jerald "Jerry" Bolen, 78, of Fairview Heights, IL, born Friday, June 23, 1944, passed away Sunday, January 8, 2023 at his residence, surrounded by his loved ones after a brief illness.
Jerry was a beloved husband, father, Grandpa Tappy, educator, musician, fisherman and volunteer. He was a member of St. Henry Catholic Church in Belleville, IL.
Jerry grew up in Staunton, IL and received his Bachelor and two Masters' Degrees from SIUE. He was an accomplished educator and musician, developing his love of music from a young age. He served as the principal percussionist at the Muny Opera for 46 seasons and was a founding member of the "Parking Lot Crew". Jerry was a teacher at Gibault, SIUE and SWIC, where he touched the lives of countless students in his Jazz Lab Band, Music Theory and Percussion Instructive classes. He enjoyed fishing off of his dock with his adored grandchildren, traveling the world with Sue, and spending time with his family and friends.
He was preceded in death by his:
Parents, Steve and Ethel, nee Hawkins, Bolen
Sister, JoAnn Bolen
Surviving are his:
Wife of 44 years, Susan, nee Coffey, Bolen of Fairview Heights, IL
Son, Stephen, his wife, Rebecca, Bolen of St. Louis, MO and their children, Jane and Oliver Bolen
Daughter, Elizabeth, her husband, Ryan, Stookey of Belleville, IL and their children, Clara, Daniel and James Stookey
Sister, Linda, her husband, Richard, Bangert of Edwardsville, IL
Sister-in-Law Clare Coffey of Akron, OH
Brother-in-Law David, his wife Jena, Coffey of Clarkston, WA
Numerous, nieces, nephews and cousins
A special thank you to BJC Hospice, his nurse and former student Becca, and Neeshelle for taking such great care of Jerry.
Memorials: Memorials may be made to the Mary Bryant Home for Blind and Visually Impaired or Minds Eye Radio.
Visitation: Visitation from 4:00 – 8:00 pm, Wednesday, January 11, 2023 at Kurrus Funeral Home in Belleville, IL and from 10:00 – 11:00 am Thursday, January 12, 2023 at St. Henry Catholic Church in Belleville, IL.
Funeral: Funeral Services will be held at 11:00 am, Thursday, January 12, 2023 at St. Henry Catholic Church, with Rev. Kenneth York officiating. Interment will follow at Lake View Memorial Gardens, Fairview Heights, IL.