I've been smoking meats long before the pandemic made it a phase that all middle-aged men eventually filter past (somewhere after Cast Iron and before House Plants).
I've smoked whole packer briskets, loads of pork butts, and St. Louis-style ribs. The one thing I've never had the wherewithal to try is pork belly. This left a bacon-sized hole in my heart, which I attempted this week to fill.
Bacon Prep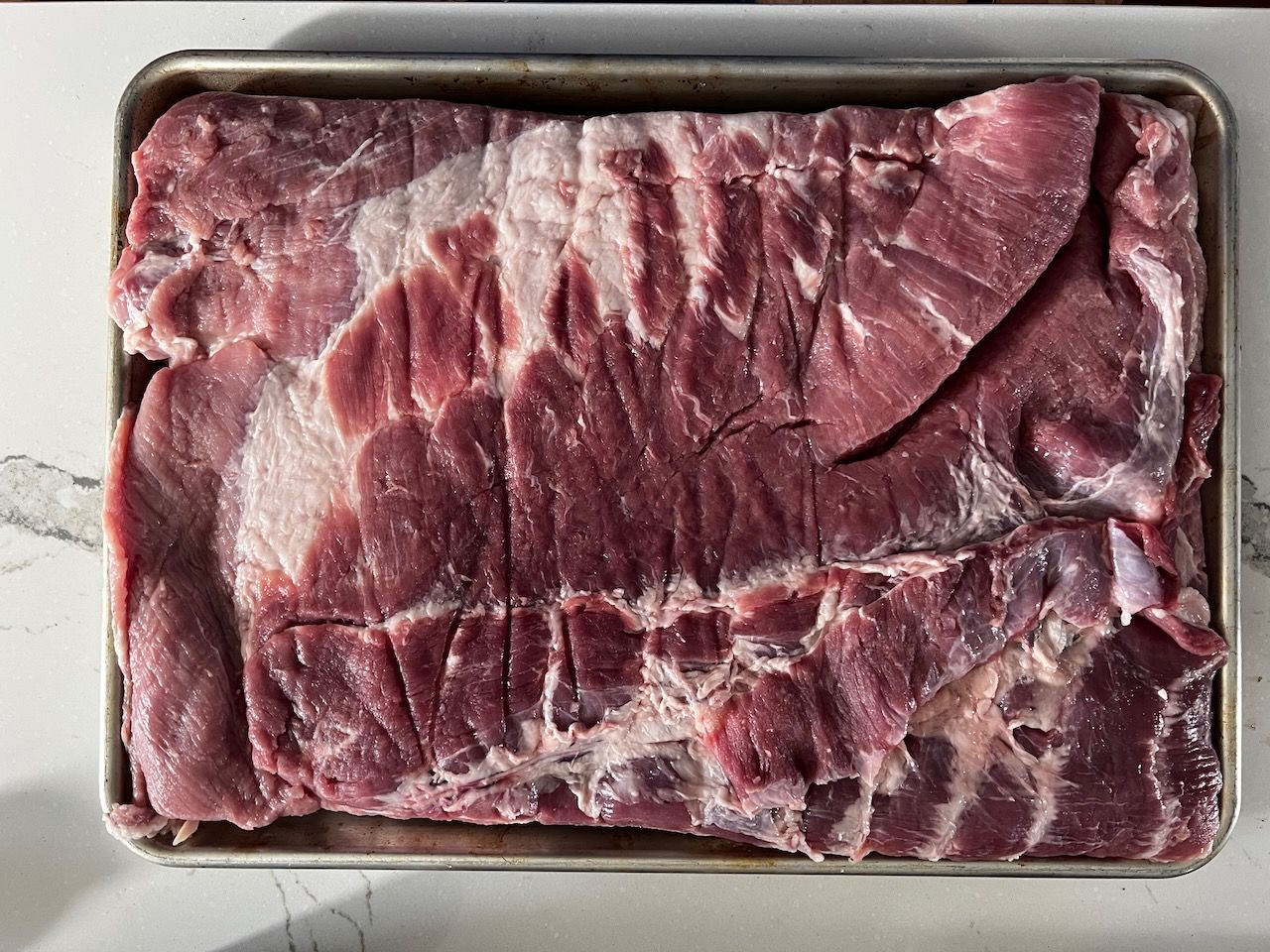 I love Costco. A lot. So on a pre-snowstorm run, I rifled through the pre-packed pork bellies and found a 9.75# gem for $36.13 ($3.70 per pound - much less expensive than grocery store bacon).
Score.
I'm a big fan of the Amazing Ribs website. Meathead Goldwyn's recipies and techniques have yet to disappoint. So naturally, that's the first place I went to learn how to cure and smoke my new pork belly baby. I followed the recipie for Homemade Bacon That Beats Store Bought Smoked Bacon, and friends, it sure as hell does.
Because I had nearly 10 pounds of pork belly, I divided it up into thirds. I froze one pork belly and prepared some cure / brine for the other two.
Cure / Brine
1 pounds raw pork belly unsliced, about 1 1/2" (3.8 cm) thick and 6 to 8" (15.2 to 20.3 cm) wide across the grain
¾ cup distilled water
6 tablespoons dark brown sugar
4 ½ teaspoons Morton Coarse Kosher Salt
4 ½ teaspoons ground black pepper
½ teaspoon Prague Powder #1
For the first belly, I followed the recipe above with a slight addition of a few tablespoons of Vermont Maple Syrup.
The second belly replace a lot of the salt with Red Hot Riplets seasoning for a 100% Saint Louis inspired cure / brine.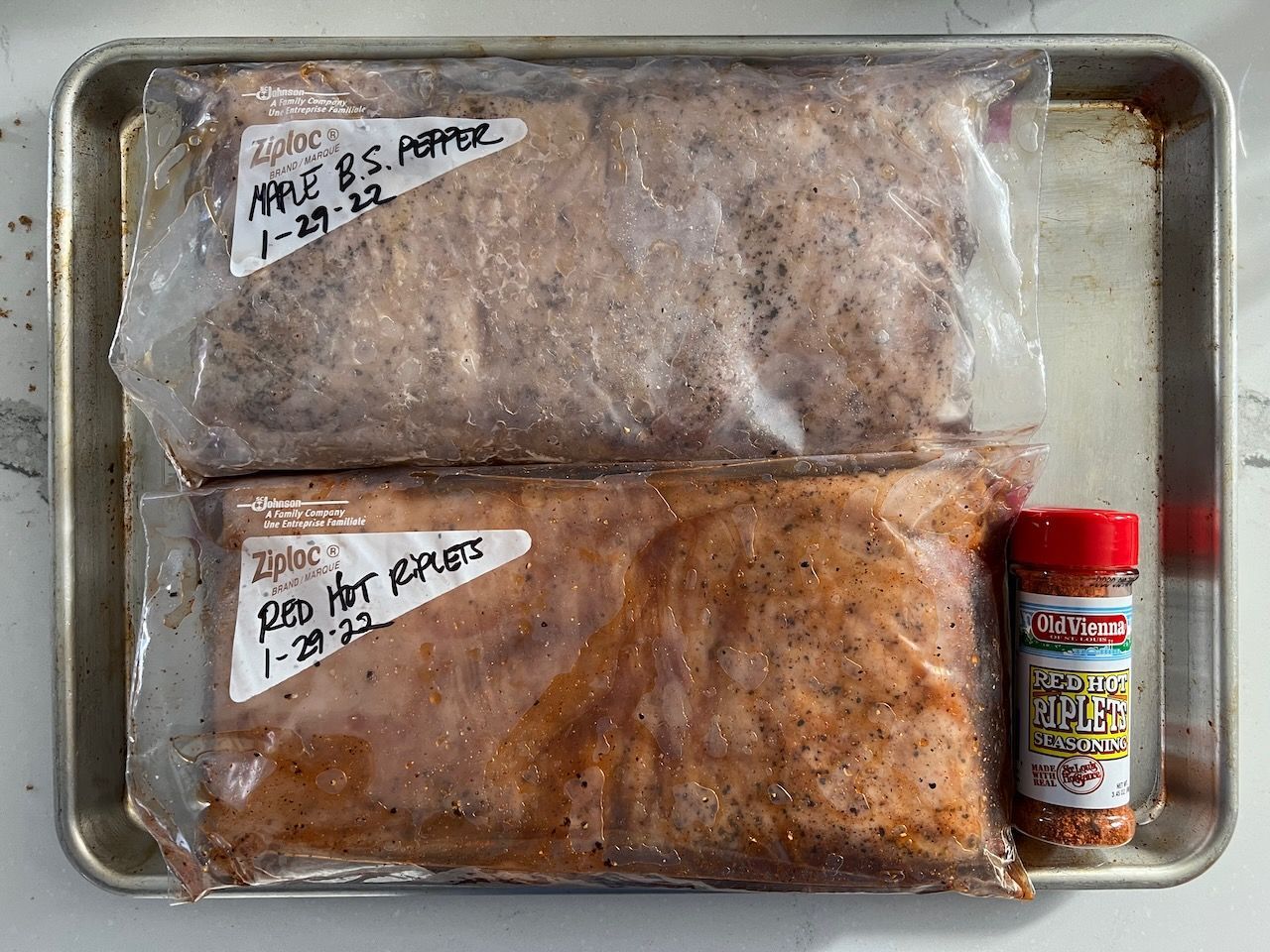 I threw both bags into the downstairs refrigerator and re-visisted them during the week to rotate, mix, and move around the pork for full brine coverage. Waiting was the hard part.
Smoking
Finally, I was able to fire up the Weber Kettle and get it ready to smoke. I've been using / have fallen in love with the Slow 'N Sear Deluxe for smoking because it holds a super consistent 250° F temp – with the 7° F outside temperature, I sure as hell didn't want to keep running out to adjust dampers/airflow.
All I needed was 2 or so hours to get to the internal temperature of 150° F before pulling and resting.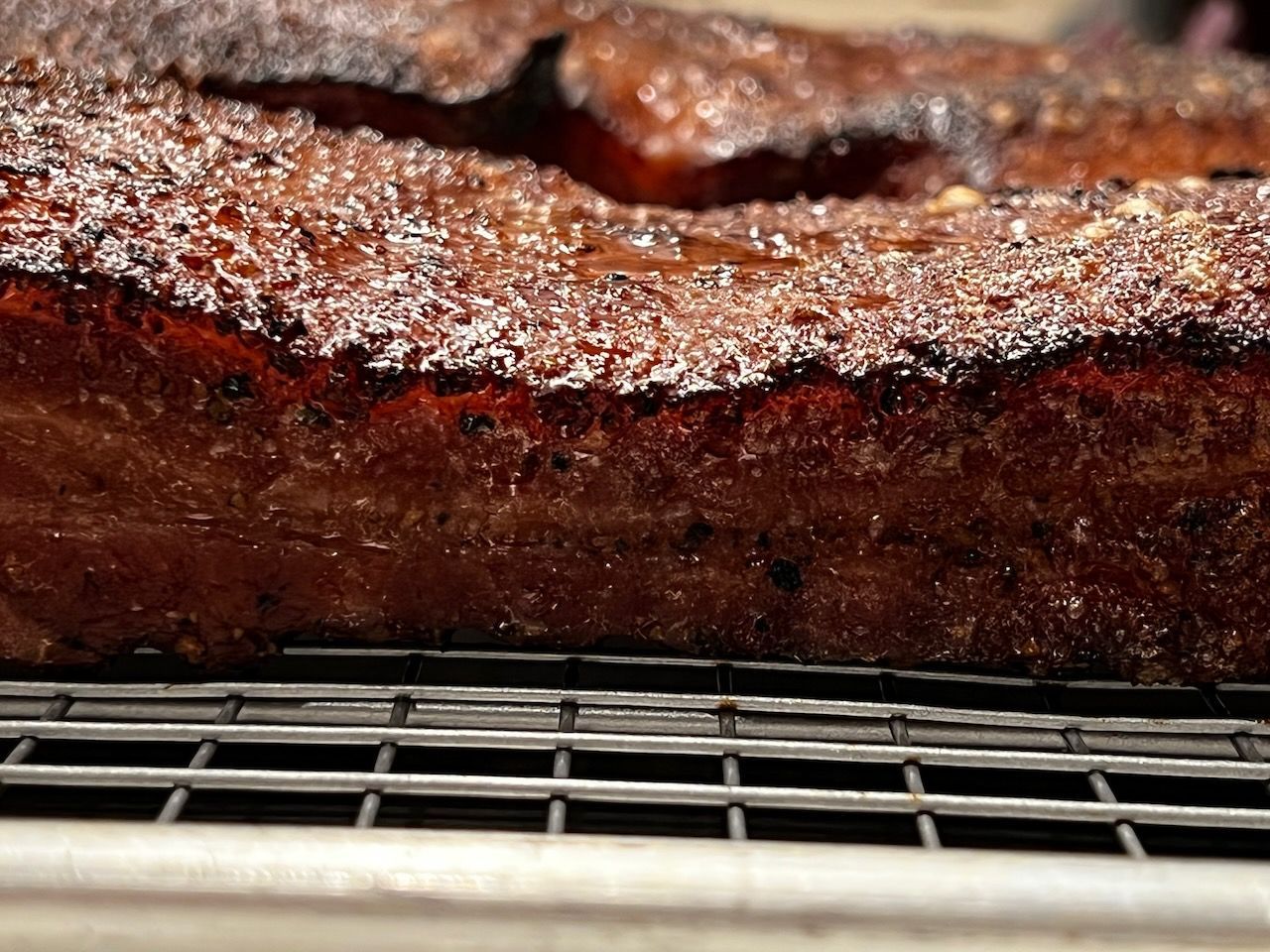 First taste
Now, the fun part: tasting. I sliced off the ends and pan-fried a few test strips.
I'll be 100% honest – this bacon was way too salty! But, that was to be expected – it absorbed the most salt from the cure / brine. I tossed the uncut pork bellies into some 2-gallon bags after cooling and let it rest in the refrigerator.
Waiting is so hard
Giving it a chance to rest in the refrigerator overnight was all I needed to get a really consistent slice out of the belly. I pan-fried both the maple bacon and the Red Hot Riplets bacon in my 12" Cast Iron skillet to great results!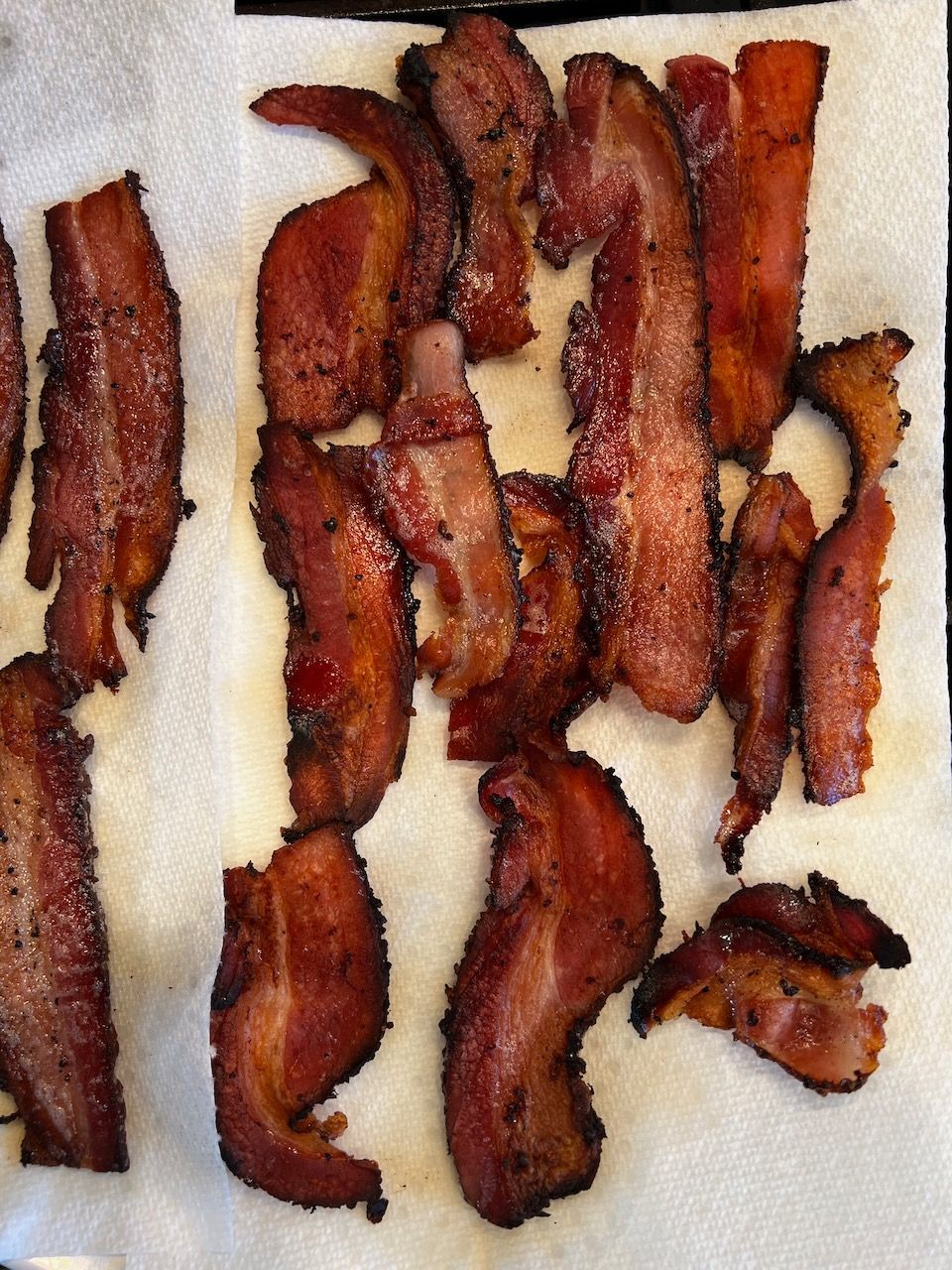 Build / Measure / Learn
As a (former?) User Experience and Product Designer, I fully embrace the culture of continuious learning. Here is a few things I'd do differently next time:
Reduce the amount of salt in the cure / brine. I don't need that much for great-tasting bacon, and I sure don't want the salt to overpower the hickory smoke.
User smaller cuts of pork belly. Seven fucking pounds of bacon is a lot. And there's a finite number of days to consume it before it goes bad. I don't want to waste bacon!